I'm a big fan of music, and use it a lot when working, but I had no idea about how it really affects our brains and bodies. Since music is such a big part of our lives, I thought it would be interesting and useful to have a look at some of the ways we react to it without even realizing.
"Without music, life would be a mistake" –Friedrich Nietzsche
Of course, music affects many different areas of the brain, as you can see in the image below, so we're only scratching the surface with this post, but let's jump in.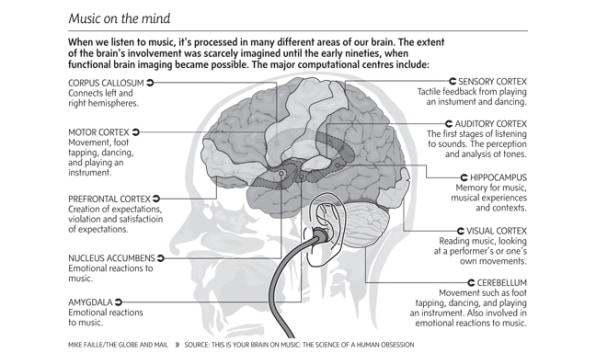 1. HAPPY/SAD MUSIC AFFECTS HOW WE SEE NEUTRAL FACES:
We can usually pick if a piece of music is particularly happy or sad, but this isn't just a subjective idea that comes from how it makes us feel. In fact, our brains actually respond differently to happy and sad music.
Even short pieces of happy or sad music can affect us. One study showed that after hearing a short piece of music, participants were more likely to interpret a neutral expression as happy or sad, to match the tone of the music they heard. This also happened with other facial expressions, but was most notable for those that were close to neutral.
Something else that's really interesting about how our emotions are affected by music is that there are two kind of emotions related to music: perceived emotions and felt emotions.
This means that sometimes we can understand the emotions of a piece of music without actually feeling them, which explains why some of us find listening to sad music enjoyable, rather than depressing.
Unlike in real life situations, we don't feel any real threat or danger when listening to music, so we can perceive the related emotions without truly feeling them–almost like vicarious emotions.
2. AMBIENT NOISE CAN IMPROVE CREATIVITY
We all like to pump up the tunes when we're powering through our to-do lists, right? But when it comes to creative work, loud music may not be the best option.
It turns out that a moderate noise level is the sweet spot for creativity. Even more than low noise levels, ambient noise apparently gets our creative juices flowing, and doesn't put us off the way high levels of noise do.
The way this works is that moderate noise levels increase processing difficulty which promotes abstract processing, leading to higher creativity. In other words, when we struggle (just enough) to process things as we normally would, we resort to more creative approaches.
In high noise levels, however, our creative thinking is impaired because we're overwhelmed and struggle to process information efficiently.
This is very similar to how temperature and lighting can affect our productivity, where paradoxically a slightly more crowded place can be beneficial.
3. OUR MUSIC CHOICES CAN PREDICT OUR PERSONALITY
Take this one with a grain of salt, because it's only been tested on young adults (that I know of), but it's still really interesting.
In a study of couples who spent time getting to know each other, looking at each other's top 10 favorite songs actually provided fairly reliable predictions as to the listener's personality traits.
The study used five personality traits for the test: openness to experience, extraversion, agreeableness, conscientiousness, and emotional stability.
Interestingly, some traits were more accurately predicted based on the person's listening habits than others. For instance, openness to experience, extraversion, and emotional stability were the easiest to guess correctly. Conscientiousness, on the other hand, wasn't obvious based on musical taste.
Here is also a break-down of how the different genres correspond to our personality, according to a study conducted at Heriot-Watt University: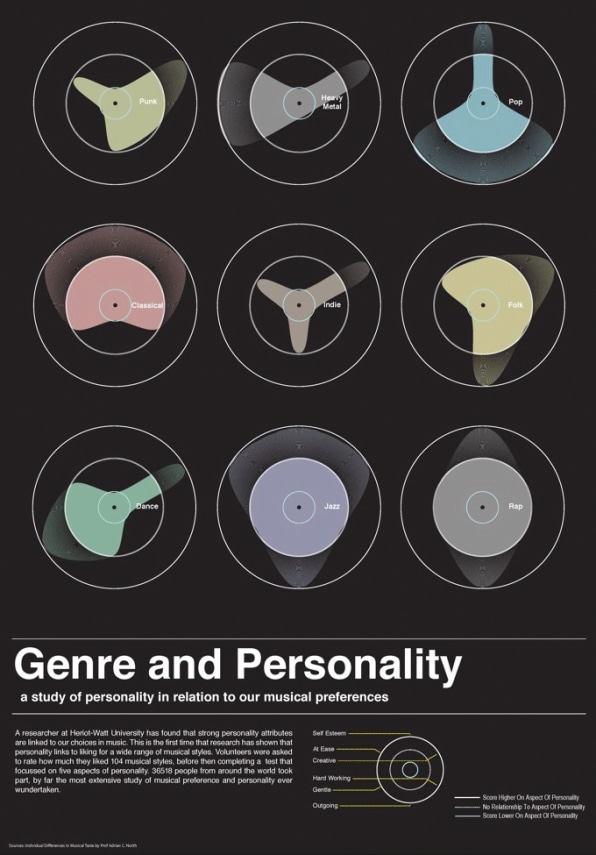 To break it down, here is the connection they have found:
Blues fans have high self-esteem, are creative, outgoing, gentle and at ease
Jazz fans have high self-esteem, are creative, outgoing and at ease
Classical music fans have high self-esteem, are creative, introvert and at ease
Rap fans have high self-esteem and are outgoing
Opera fans have high self-esteem, are creative and gentle
Country and western fans are hardworking and outgoing
Reggae fans have high self-esteem, are creative, not hardworking, outgoing, gentle and at ease
Dance fans are creative and outgoing but not gentle
Indie fans have low self-esteem, are creative, not hard working, and not gentle
Bollywood fans are creative and outgoing
Rock/heavy metal fans have low self-esteem, are creative, not hard-working, not outgoing, gentle, and at ease
Chart pop fans have high self-esteem, are hardworking, outgoing and gentle, but are not creative and not at ease
Soul fans have high self-esteem, are creative, outgoing, gentle, and at ease
At this point in the article is where I tend to go left but If you would like to finish reading it go to  Fast Company